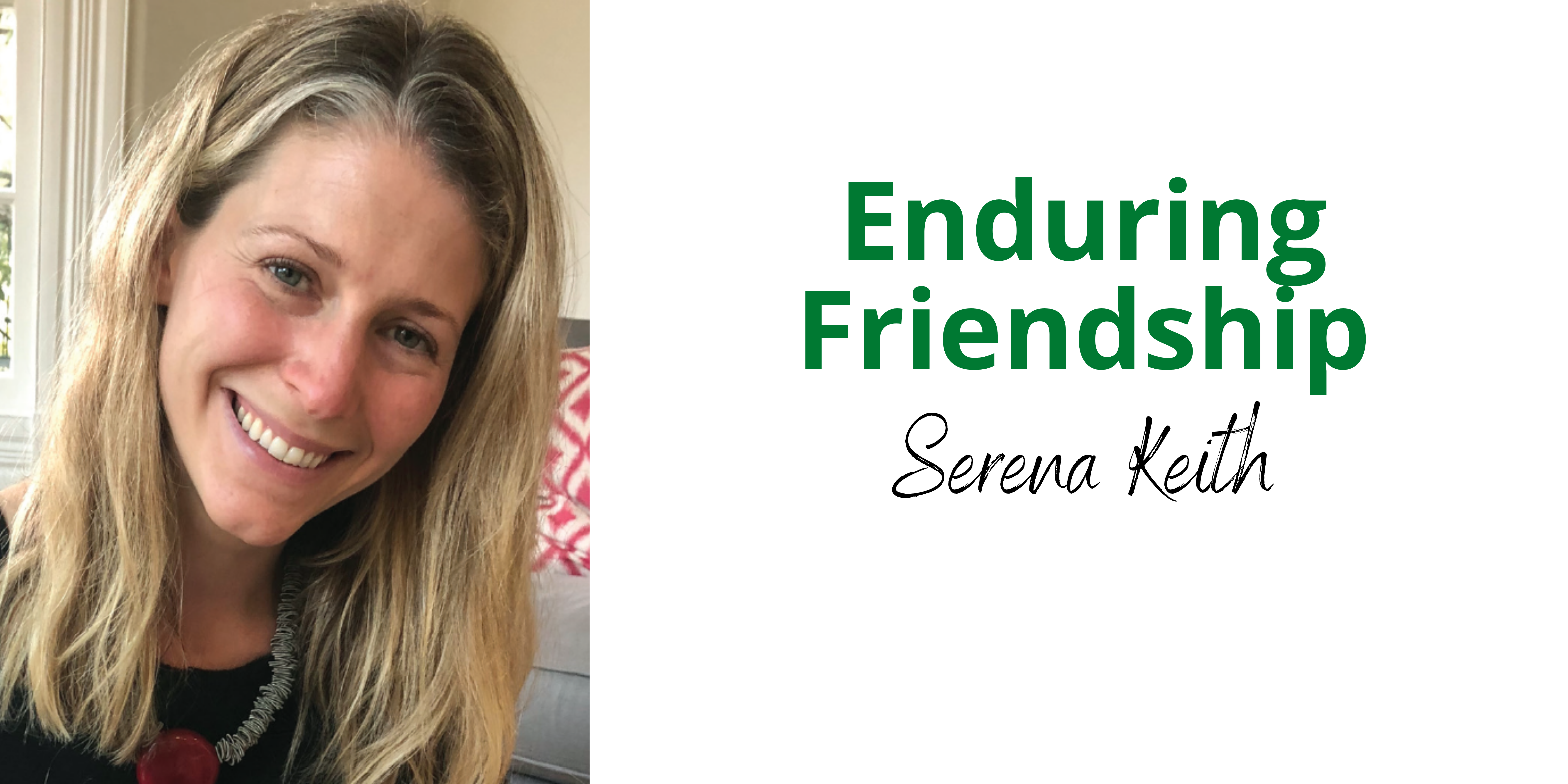 This article originally appeared in the Gordie Center's 2019 print publication.
Serena Keith arrived at Deerfield Academy, a private co-ed boarding school in Deerfield, Massachusetts, at the start of her sophomore year of high school in the fall of 2001. Also new to Deerfield in his sophomore year that fall was Gordie Bailey. Serena and Gordie met early on that year, and sat next to each other in Spanish class.
"Gordie had a wonderfully terrible Spanish accent, and I think I cracked a joke about it, which sealed our friendship. He was always a ball of sunshine, always making people laugh, and also a genuinely warm, caring friend," Serena recalls. Over the course of three years at Deerfield, Serena and Gordie spent a lot of time together — in classes and study groups, at meals in the dining hall, and hanging out on the weekends with their group of friends. Gordie also took Serena to Deerfield's prom.
Serena carries wonderful memories of that time with Gordie, and how much he valued his friends is something Serena will never forget. When they graduated from Deerfield in the spring of 2004, Gordie headed to Boulder to begin college at the University of Colorado, and Serena stayed in Massachusetts to attend Harvard. Just three weeks into their freshman year of college, Gordie died of alcohol overdose after being hazed.
It was a Friday afternoon when Serena learned her friend was gone. "A Deerfield classmate who had also started at Harvard with me that fall came rushing across the freshman yard to tell me the news. We both sat frozen, under a tree, hugging each other for about an hour. We then reached out to others on campus who knew Gordie, and sat in the freshman dining hall telling story after story about our favorite Gordie memories."
Serena struggled with Gordie's loss, especially since she was caught off guard by his cause of death. "Before Gordie died, I'd never given any thought to death by alcohol. I knew about drunk driving crashes, but that was really it. Learning about alcohol overdose was really formative for me, and made me realize just how little I knew about healthy and unhealthy drinking habits. I'd received almost no education about it — teachers never talked about it."
After Gordie's death, the Gordie Center created materials on hazing, alcohol overdose, and how to help a friend in an effort to provide education and close the knowledge gap. "The Gordie Center's focus on giving friends the tools to help their friends had a huge impact on me in college and afterward. It oriented me to a role I could play in preventing an awful tragedy to the next person, and it empowered me by giving me a job to do — I think it helped me be a better kind of friend. Just like Gordie was to all of us."
He was such a warm guy who didn't have any reservations in getting to know anyone. He was going to invest in friendships.
Serena has kept in touch with Gordie's family in the years since his passing. Gordie's mother, Leslie, says they always pick up right where they left off when they talk. "Serena and Gordie had an awfully special friendship," Leslie recalls. "She was a great role model for him, and he for her — they were a great balance for each other. Serena is really bright, and can be maybe a bit more serious than Gordie. She tried to help Gordie apply himself more, because he was awfully short-sighted — he didn't understand the big picture as far as applying himself academically to get into a really good college. She was the opposite — very mature, did well, and went to Harvard. She appreciated his sense of humor, and he was flattered to have a friend who was so loyal and dear to him. They laughed together a lot. Gordie had a number of friends who were girls, but she was one of his very best friends."
Serena is also featured in HAZE, the documentary that shares Gordie's story. The film ends with her, talking about "pulling a 'Gordie' — 'Gordie' has become the term for 'lighten up,' 'get some perspective,' and 'recognize what's important in life,'" she says in the film. HAZE is shown in high schools, colleges, and communities across the country, and Serena feels that Gordie's story is still relevant "because Gordie is someone whose life and death had a tremendous impact on so many people — he changed the course of all our lives forever. He's not a statistic, he's a real person whom we love and lost far too soon. I think students can relate on an emotional level and draw lessons that will hopefully influence the real and sometimes hard choices they'll make in their own lives."
Today, Serena lives in San Francisco and runs a corporate training startup for employers in the Bay Area. Gordie is never far from her thoughts. "I keep a picture of him in my bedroom — it's the two of us at prom. He's wearing a blue tux (so typical of Gordie!), and I always shine just a little brighter when I look at that photo. Fifteen years later, he's absolutely still a figure in my life. When I get down or life feels hard, I think about Gordie's lighthearted spirit and it helps me calm down, enjoy the process, and hug my friends a little tighter."