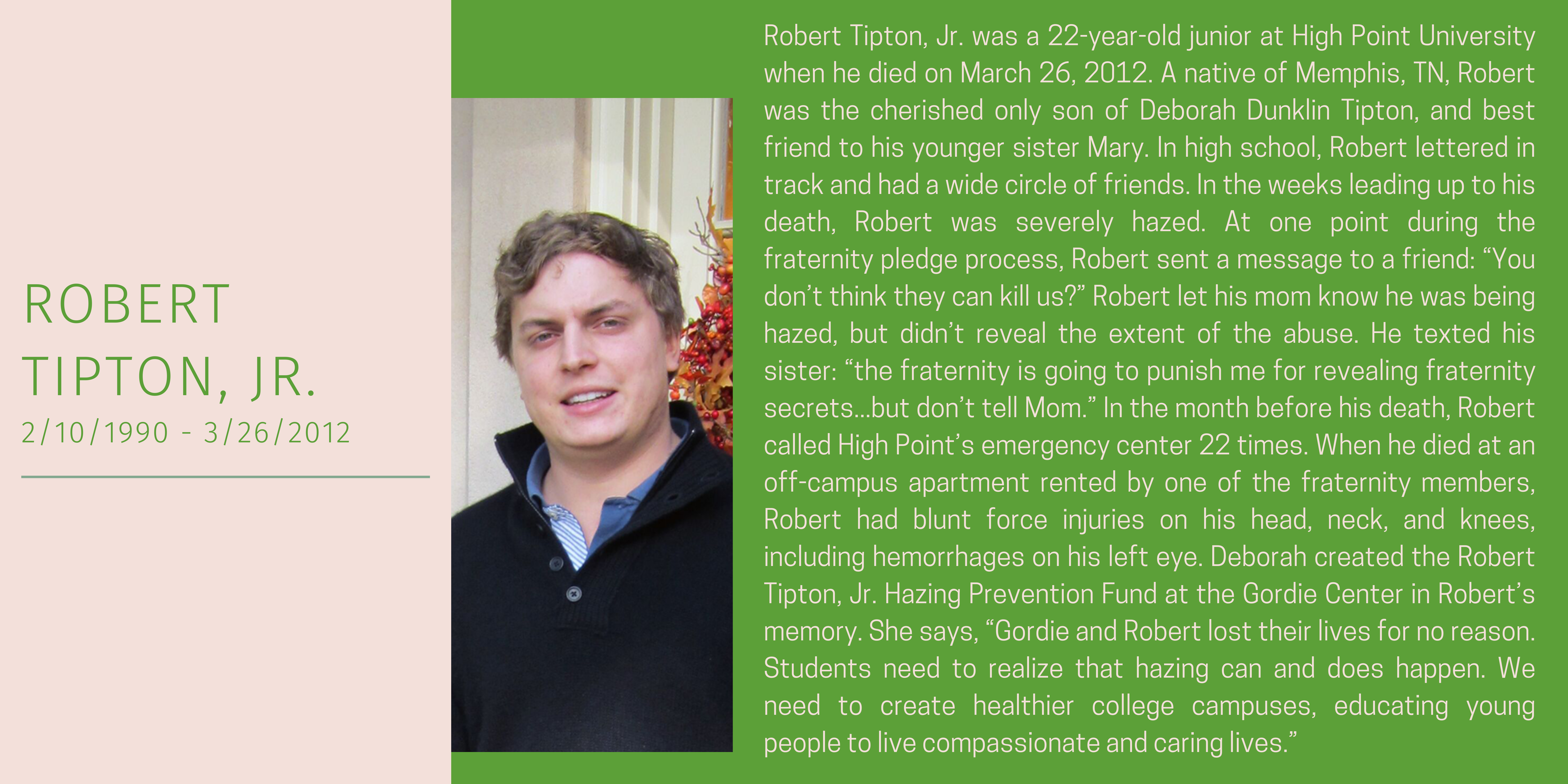 Robert Tipton Jr. Hazing Prevention Fund
Deborah Dunklin Tipton honored the memory of her son, Robert Tipton, Jr., by creating the Robert Tipton Jr. Hazing Prevention Fund at the Gordie Center. Robert and so many others could have been saved had they had access to quality hazing prevention education — his Fund enhances the Gordie Center's national hazing prevention efforts by providing students with the tools they need to act if they are hazed, if a friend is hazed, and if their group is hazing. The Fund supports the Gordie Center's Robert Tipton Jr. Hazing Prevention Coordinator position (currently held by Carl Reisch), and the creation of comprehensive, easy-to-implement hazing prevention campaigns for high schools and colleges nationwide. Learn more about Robert in the profile below, and make a tax-deductible donation to the Robert Tipton Jr. Hazing Prevention Fund by clicking on the blue Donate button. Hazing education saves lives. Join us — together, we can end hazing.
A Mother's Love: Deborah Dunklin Tipton shares how losing her only son to hazing led her to the Gordie Center.
This article originally appeared in the Gordie Center's 2017 print publication.
In March 2012, Deborah Dunklin Tipton of Memphis, TN, lost her only son, Robert Eugene Tipton, Jr. He was Deborah's "miracle child," born after years of infertility and intervention. Twenty months later, the family grew with the birth of his sister, Mary. Growing up, Robert and Mary enjoyed traveling, sports, and spending time with their extended family and friends.
"He was especially kind to and protective of his little sister Mary, whom he adored. All our pictures show him smiling and happy. Robert was quite trusting, expecting the best from others and assuming that most people were honorable and loving in the ways his family, especially his grandparents, had always been to him," Deborah says.
When Robert attended college at High Point University in High Point, NC, Deborah believes he was searching for a group of friends to provide the warmth he felt at home. His search led him to pledge a fraternity, even though he wasn't a partier. In the weeks leading up to his death, Robert was severely hazed in the fraternity pledging process — he confided to his sister that he was worried the brothers were going to punish him for revealing a fraternity secret, but asked her not to tell their mom. On March 26, 2012, Robert was pronounced dead with blunt force injuries on his head, neck, and knees, including hemorrhages on his left eye after being found unresponsive in the apartment of one of the fraternity members.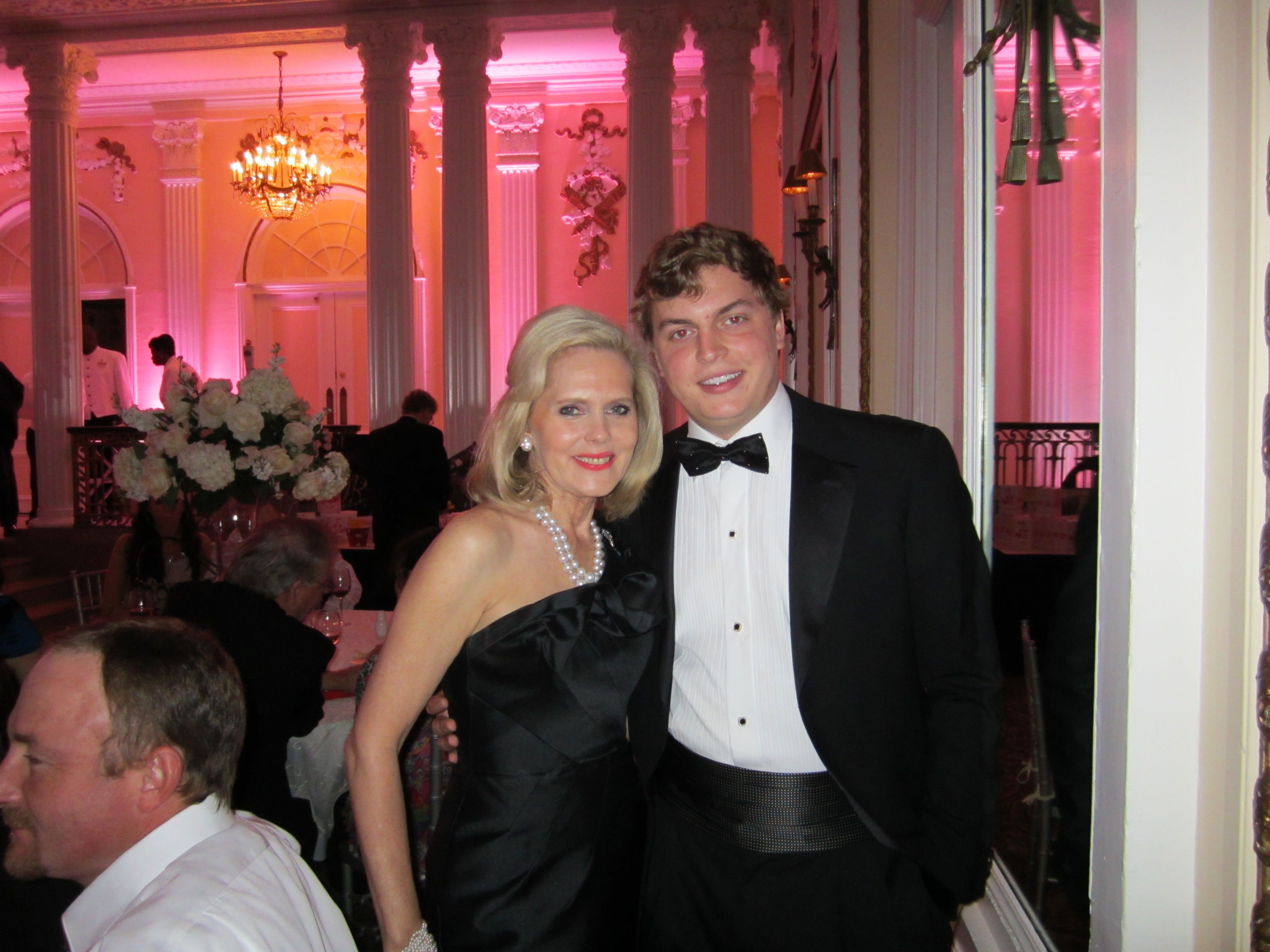 I read Gordie's story and realized that another mother was suffering, as I was.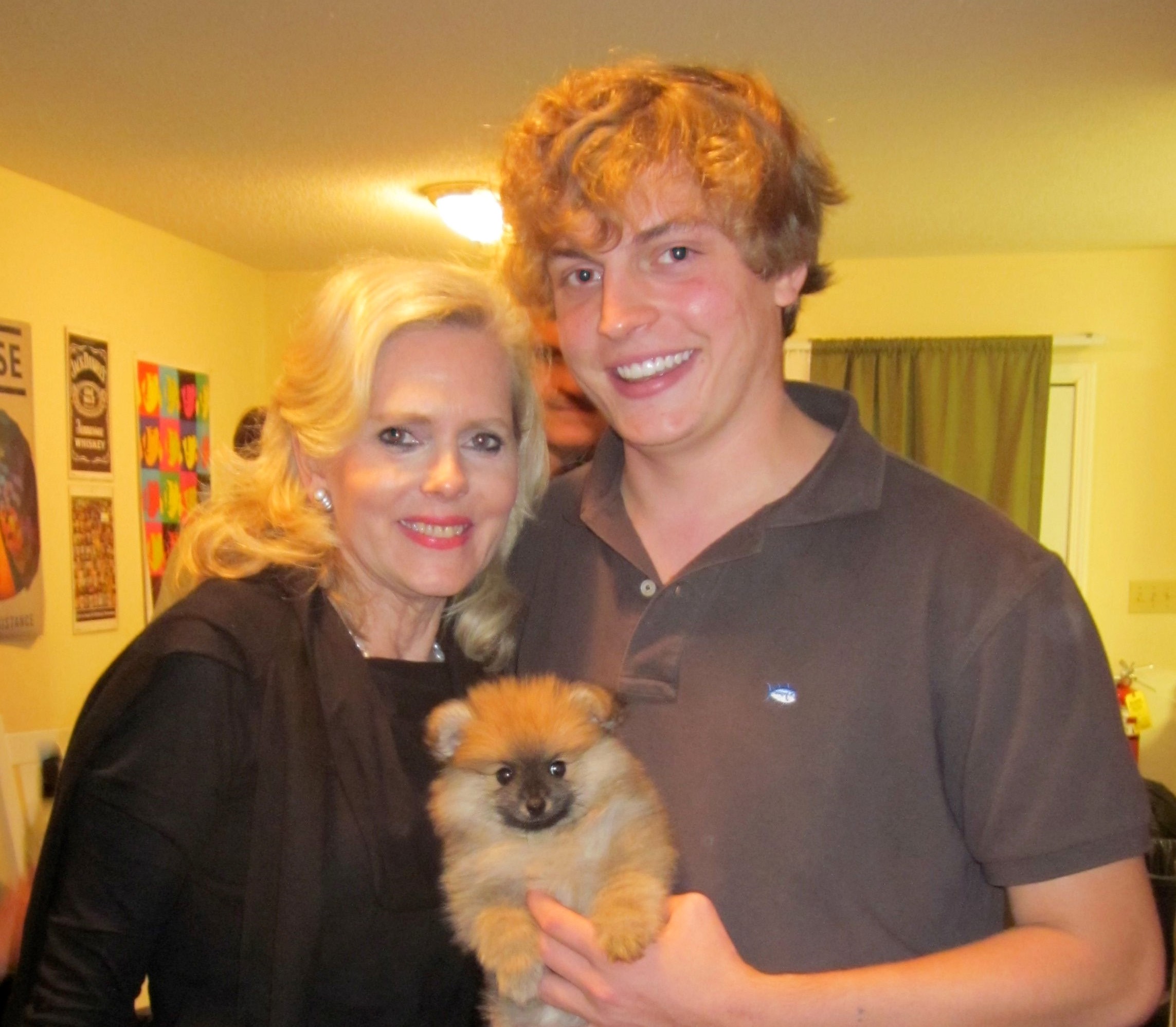 "I live daily with the guilt of not having understood enough about the situation to save my son. Not a day goes by that I don't wake up thinking about Robert. Mary, too, is working through her loss and devastation, but she, like I, will never be the same. Every day, I keep thinking he will walk in the door. I would like to help other parents by educating college students about the dangers they might face and how to escape from peer pressure and seek the help they need."
Deborah was connected with the Gordie Center last year through her cousin, who was studying at the University of Virginia's Darden School of Business. When he heard Gordie's story, it reminded him of Robert's, and he talked with Deborah about the Gordie Center's efforts. She went to Gordie.org, and was inspired to give a donation. Deborah's passion for the Gordie Center's mission is evident:
"I read Gordie's story and realized that another mother was suffering, as I was, the loss of her son during a fraternity initiation. I, like Gordie's mother, felt that a mother's job is to protect her child. I shared her feelings of pain and grief over having failed to protect Robert and the frustration of not being able to get justice for him. I so admire the Lanahans for being able to turn the tragic death of their son into something good by founding this Center that works to change the culture of campus drinking and drug use."
With her donations to the Gordie Center, Deborah wants to help educate students, administrators, and alumni about how irresponsible behavior can and too often does lead to tragic consequences. She aims to assist programs that give meaningful help to students, and is especially happy about the Gordie Center's emphasis on bystander intervention.