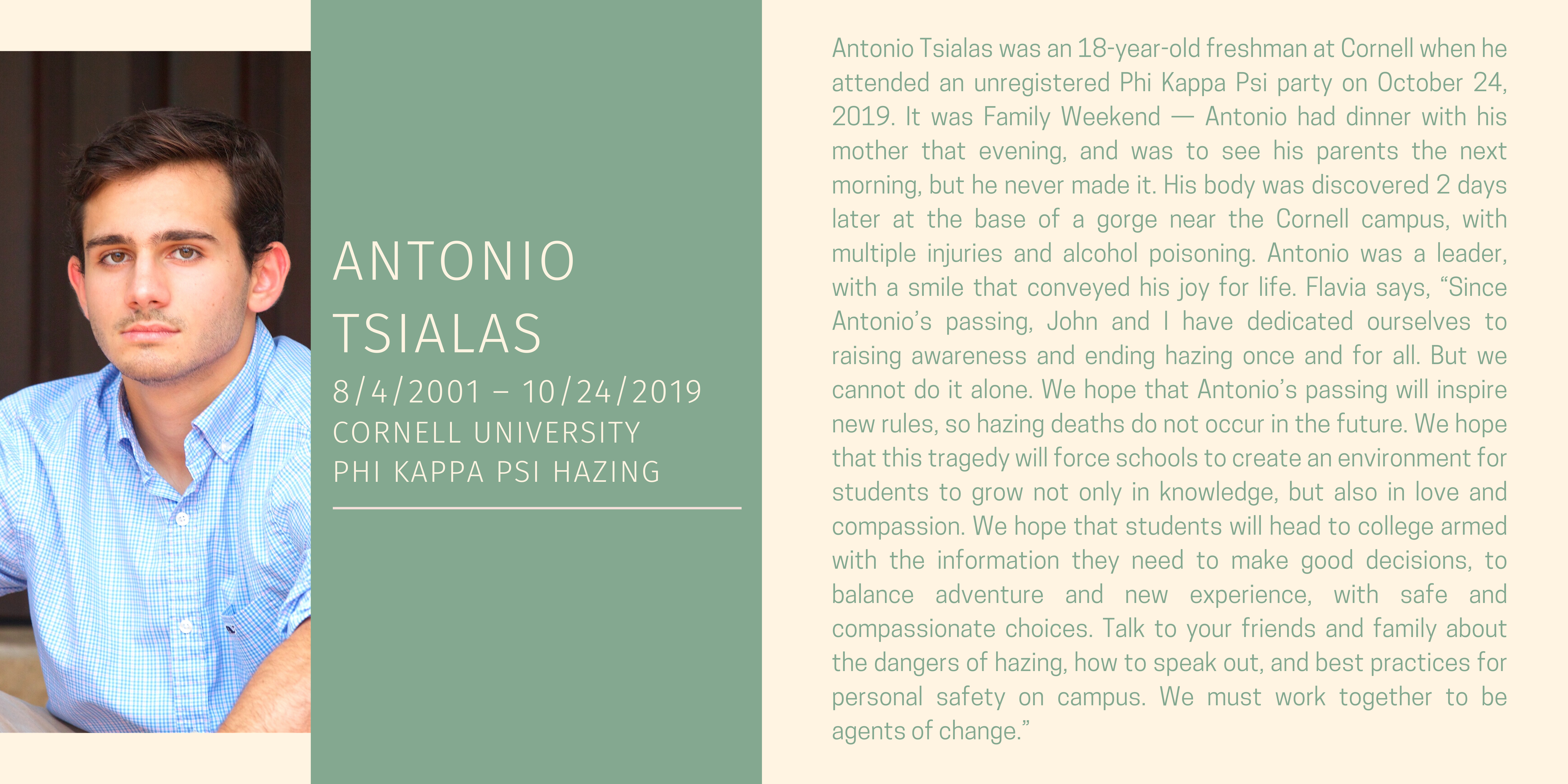 Empowering Students: Ending hazing through compassionate leadership
This article originally appeared in the Gordie Center's 2021 print publication.
When Flavia Tomasello and John Tsialas' son, Antonio Tsialas, did not show up to meet his mother the Friday morning of Cornell University's Family Weekend in October of 2019, they knew something was not right. Flavia remembers, "Antonio was always on time — for him, being on time meant getting there 20 minutes early. So when I arrived (a few minutes after our planned meeting time because I'm not as timely as my son!) and he was not there…I didn't know what, but I knew something was wrong." Antonio never showed up that morning, and Flavia and John endured a frantic two days that ended in tragedy: the body of their oldest child discovered at the base of a gorge near campus, with multiple injuries and alcohol overdose. While the specific details of what happened to Antonio are unknown, Antonio had attended a "dirty rush" event at Phi Kappa Psi fraternity that involved hazing and forced alcohol consumption that Thursday night, which led to his death.
"Hazing was never on my radar for Antonio — he was always loved and accepted; he was always a leader," Flavia says. Antonio's death was stunning for his family — he had gone to dinner with his mother the night he died. He was not a big partier nor had he mentioned trying to join a fraternity at Cornell. His parents did not even realize hazing was an actual issue, thinking instead it was something overdramatized in Hollywood movies. Antonio received an invitation to the Phi Kappa Psi event from a member of the fraternity who was also on his soccer team. His family believes he likely decided to attend because the personal invite made him feel special since none of his friends had been invited. The desire to belong is a powerful feeling that increases tolerance of and vulnerability to hazing.
In addition to his parents, Antonio left behind his younger siblings, Athena and Christopher, as well as a whole community of family and friends. "We miss Antonio every day. We try to stay positive, and to see what happened to Antonio as his journey in this world — he was a light to all of us in his life, and now he is shedding light on hazing so that it doesn't happen to anyone else," Flavia says. Antonio's family formed The Antonio Tsialas Leadership Foundation, a non-profit focusing on hazing prevention through compassionate leadership, to honor a young man whose life, leadership, and compassion touched many during his short 18 years. "Antonio was really known on his soccer teams as a leader — everyone knew that he would take new teammates under his wing, and as the goalie, he saw it as his responsibility to protect everyone," Flavia explains. "Antonio would tell his father how much he trusted his soccer teammates. He would always tell his teammates, 'I got your back.' He carried this trust with him to college. John always says 'Antonio always had everyone's back; it's too bad no one had his back that night.'"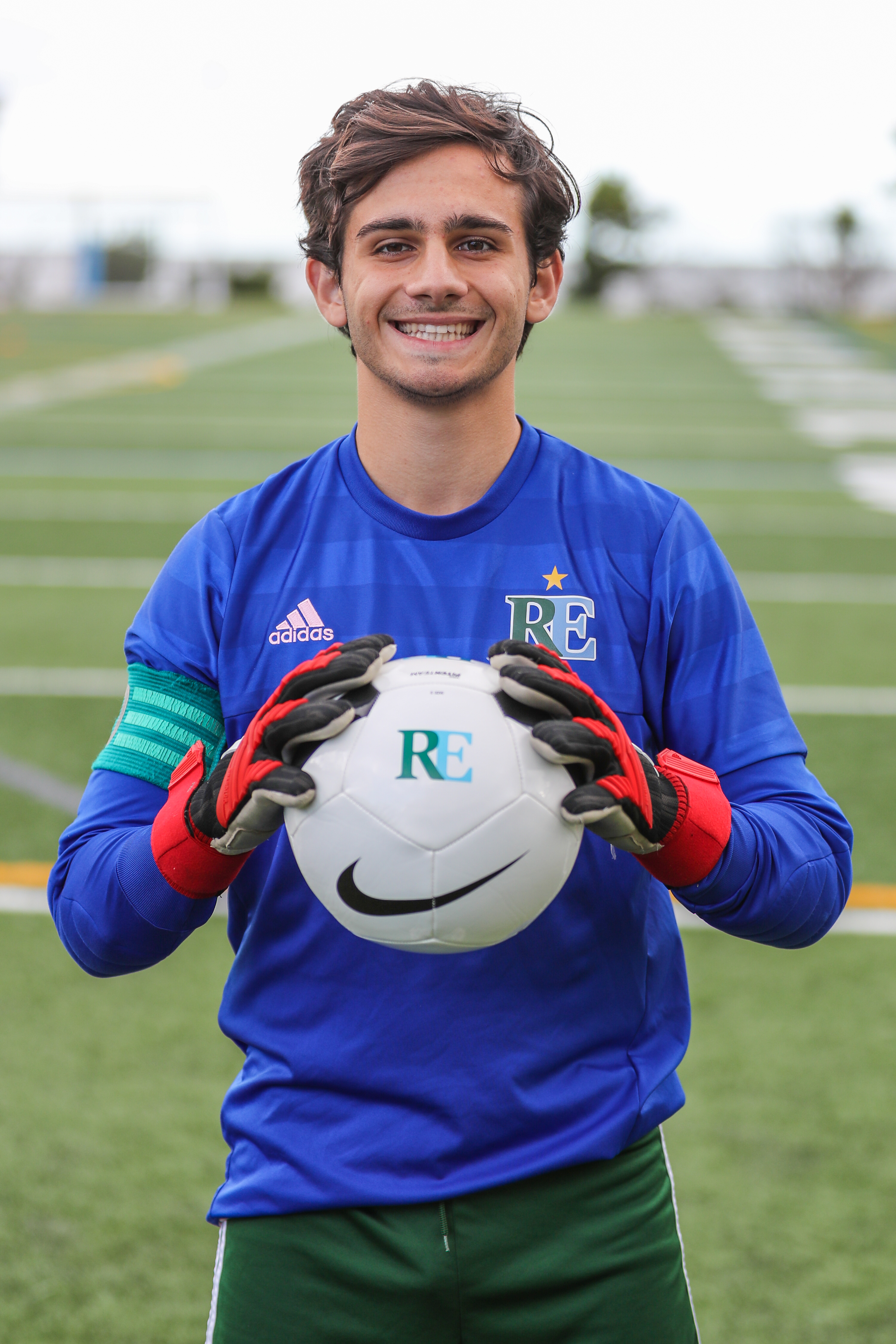 Hazing was never on my radar for Antonio — he was always loved and accepted; he was always a leader.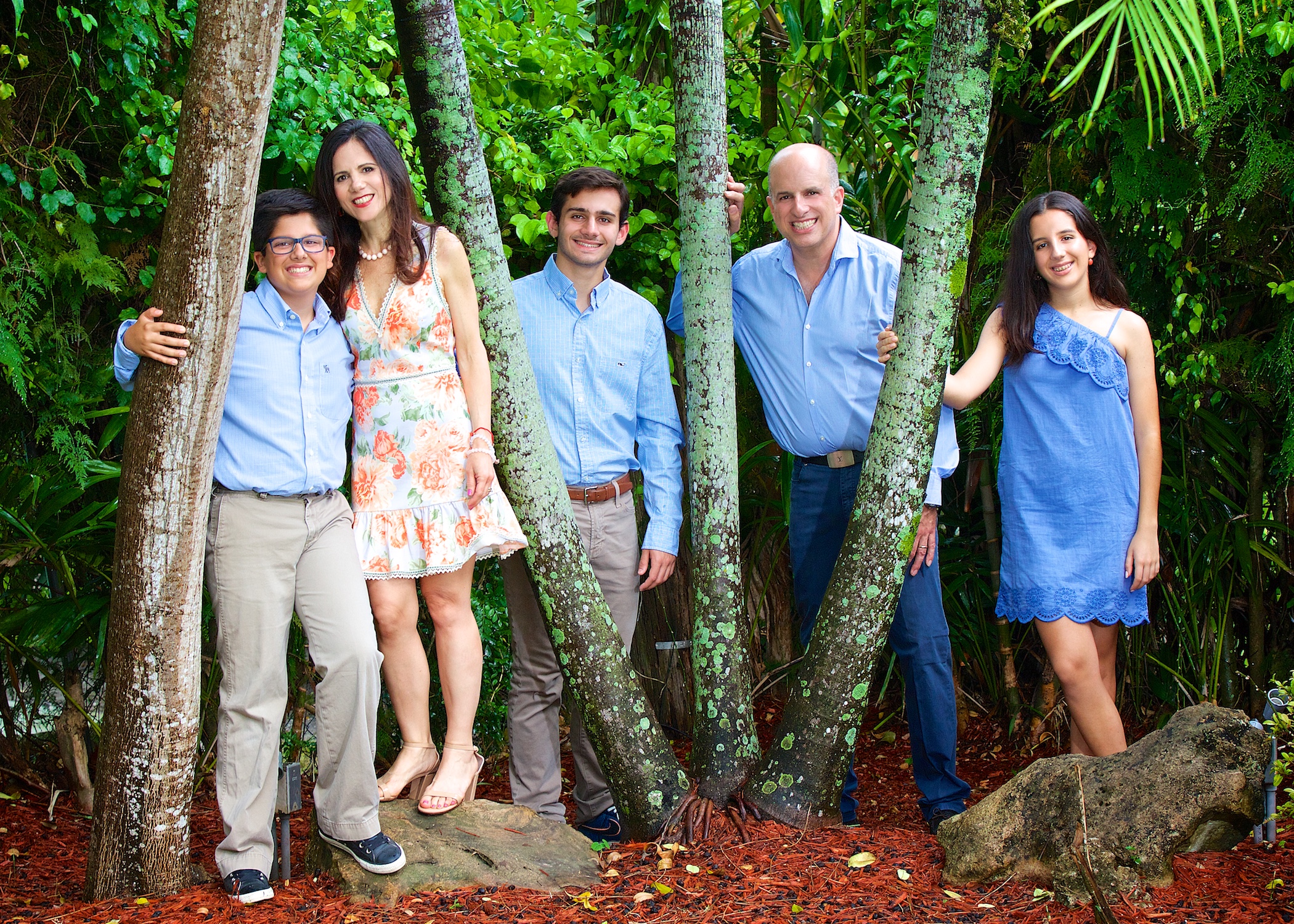 The Foundation aims to inform students of the risks associated with on-campus social life, and empower them with positive and constructive alternatives so the senseless reasons leading to Antonio's death will not happen to anyone else. Hazing is preventable, and the Foundation wants to combat it from a leadership perspective — good leaders take care of their groups, which eliminates hazing by example. "We want students to have all the information they need to make choices that are safe and compassionate, and really empower them to become compassionate leaders in whatever spaces they are living in. A lot of us feel that we don't have power, for a variety of reasons, so we give it away instead of embracing it. The victims of hazing give their power away because they feel like they don't have a choice," says Flavia. "Whoever you are, you can always be compassionate — you can always choose humanity and caring about others. We want to inspire young adults to embrace their power, and balance new adventures and experiences with safe and compassionate choices. Starting a conversation with high school students about the dangers of hazing practices can help prepare them to make good decisions during high pressure situations. Empowering our students to actively care for one another, rather than be passive bystanders, creates a more compassionate culture where hazing and cruelty cannot thrive."
The Gordie Center is partnering with The Antonio Tsialas Leadership Foundation to educate students and families about hazing. Gordie's stepfather, Michael Lanahan, has long considered hazing to be a leadership issue, so partnering with Antonio's Foundation feels like a natural fit. Michael says, "Leadership is important in most areas of life. While it is an intangible concept, we know when it is absent," as is the case in hazing situations. Michael continues, "Compassionate leadership is critical when dealing with the lives of our youth, especially when they enter college. We need to educate our young people with appropriate tools to navigate college life. We can do better. It is up to all of us." The Gordie Center is excited to partner with The Antonio Tsialas Leadership Foundation as they grow their Ambassador program for high school juniors and seniors. We are developing interactive training presentations on hazing prevention, alcohol misuse, and bystander intervention to help these students learn to prevent hazing through compassionate leadership. We believe that we are all stronger when we work together to prevent hazing, and look forward to honoring Gordie and Antonio through our partnership.