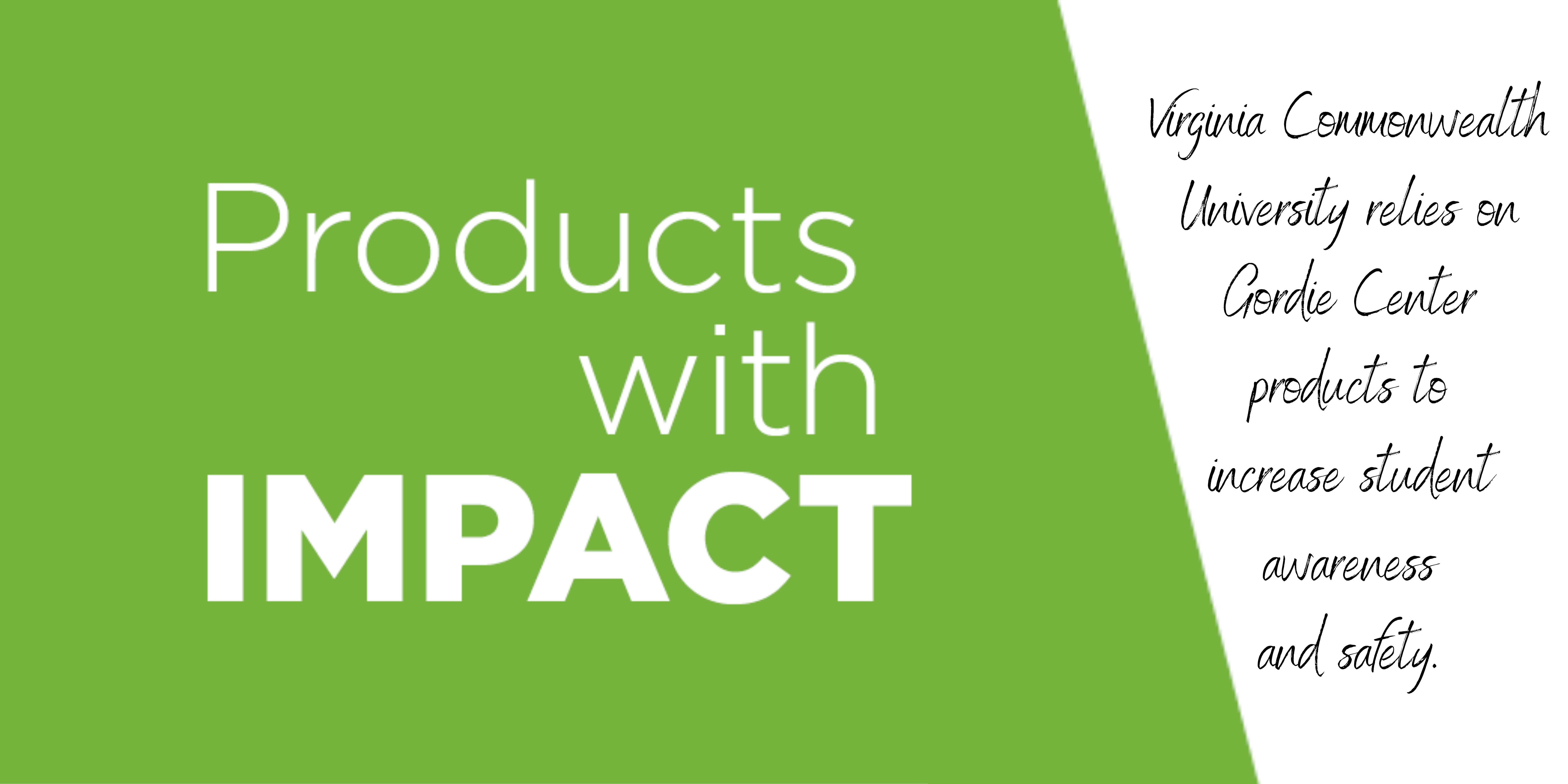 This article originally appeared in the Gordie Center's 2018 print publication.
Virginia Commonwealth University (VCU) is a diverse, creative public university with over 31,000 undergraduate and graduate students located in the heart of Richmond, Virginia. VCU's Wellness Resource Center, known on campus as The Well, strives to help students achieve and maintain a healthy lifestyle by providing alcohol and other drug education, recovery support, health education, and advocacy services. Since 2011, VCU has used the Gordie Center's GORDIEcheck Blood Alcohol Concentration (BAC) cards as part of their prevention and education efforts. GORDIEcheck BAC cards provide wallet-sized information on ways to maintain a lower BAC, as well as illustrations of a standard alcoholic drink and BAC charts for men and women.
The best feedback we've gotten is that students actually hold onto the GORDIEcheck BAC cards and use them, which is a testament to the quality of the product.
"We chose the GORDIEcheck BAC cards because we needed an easy solution for education about standard drink sizes and BAC," says Tom Bannard, Program Coordinator at The Well. "We put the BAC cards in VCU-branded safety wallets, and our students really appreciate them." Each fall, over 1,000 incoming students receive GORDIEcheck cards following a Welcome Week program sponsored by The Well. Cards also are given out as part of many health promotion events throughout the year."We also use the cards when we do alcohol pouring demonstrations to teach standard serving size and impact on BAC," says The Well's Associate Director, Trisha Saunders. "We are in the process of filming a music video of one of our pouring demonstrations that references the GORDIEcheck BAC card and talks about staying in the 'golden zone.'" The 'golden  zone' is the BAC range where people are more likely to experience the social benefits of drinking and less likely to suffer negative consequences.
When the Gordie Center was developing Student-Athlete BAC Cards in 2016, VCU staff reviewed the draft text and provided helpful feedback on the final design. When they learned the cards were in production, VCU made sure to place the very first order! "The Student-Athlete Cards grabbed our athletes' attention -- so much practical information specific to them on one card. Our athletes actually read it!" enthused Linda Hancock, a Family Nurse Practitioner who recently retired
from her position as Director of The Well.
Students benefit from Gordie Center products over the course of their studies at VCU. Tom says, "The best feedback we've gotten is that students actually hold onto the GORDIEcheck BAC cards and use them, which is a testament to the quality of the product."