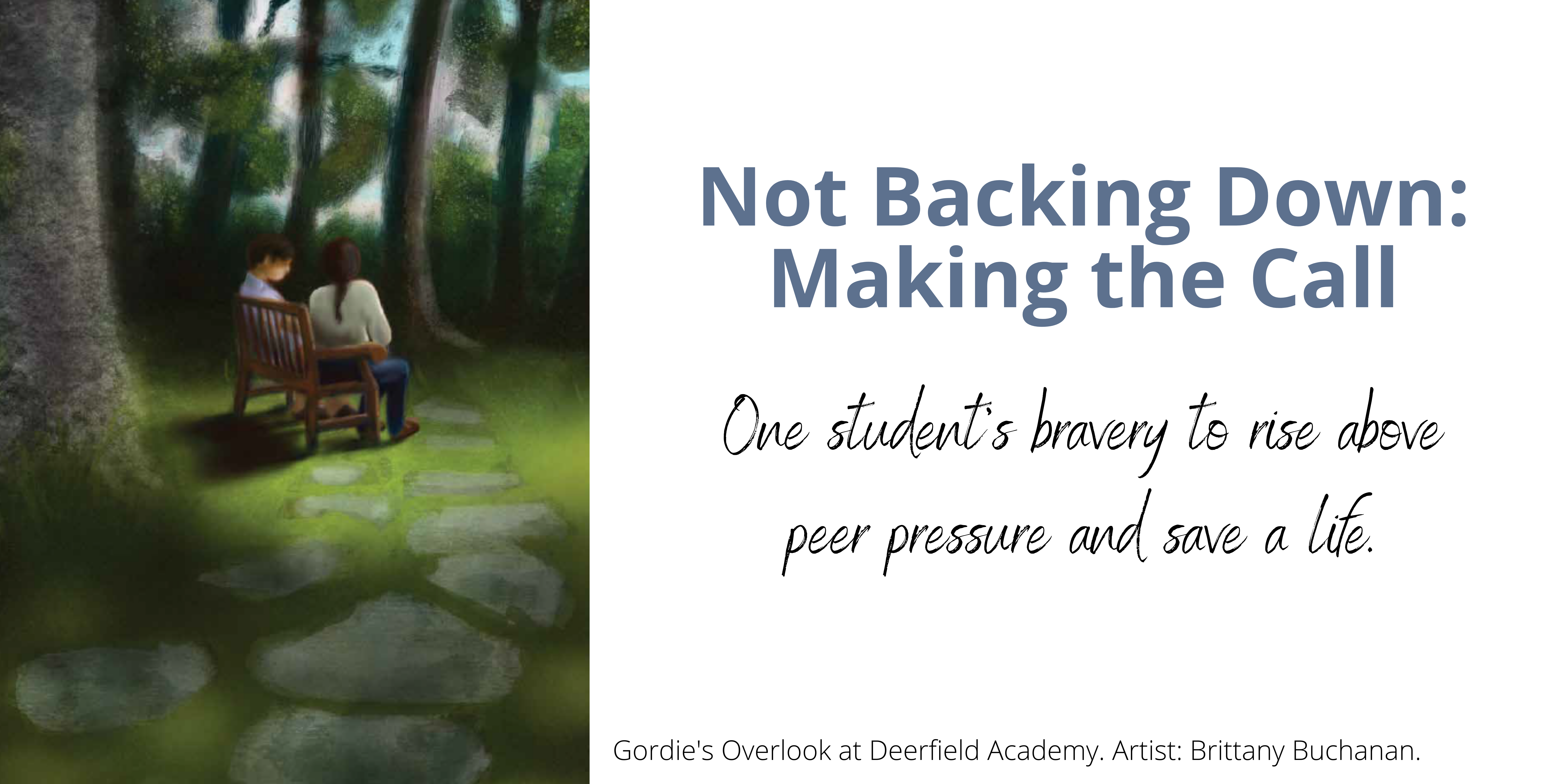 This article originally appeared in the Gordie Center's 2020 print publication.
You've been looking forward to this celebration for months. It's one of the most talked-about days of the year — a campus tradition, and as a freshman, you are excited to experience it for the first time. You and your friends make plans to attend a house party, and at the party, you have a great time — it's everything you thought it would be. Most of the night, you are outside — dancing, people watching, hanging out, just enjoying the evening. It's getting late, so you decide to go inside with a friend to warm up and wait for the Uber that will take you back to your dorm. You sit down on a couch in the house while you're killing time, and the guy seated across from you appears to be falling asleep. You don't think much of it, and keep talking with your friend and scrolling back through the photos you took that night on your phone. Suddenly, the sleeping guy begins to vomit.
This is the scenario that Erica* found herself in last year, during her freshman year at a large public university. She didn't know the guy on the couch, but she did know about Gordie Bailey. She had learned Gordie's story in high school, both in health class conversations during her freshman year, and again during her senior year "Transition to College" program when her class was shown the Gordie Center documentary HAZE. When the guy she didn't know began throwing up without waking up, Erica knew something wasn't right.
"I felt it in my gut. My friend grabbed a trash can for the guy to continue to throw up in. The older guys who owned the house were starting to get angry and wanted the guy to leave, but he couldn't stand on his own. I began asking around to see if anyone knew him, but no one I asked knew much about him — I didn't even know his name. I became frantic as time went on, and he wasn't getting better. I had no idea what was in his system, how long he had been at this party, if he had been anywhere else that evening…nothing."
Because I had seen HAZE, I remembered that minutes matter.
After surveying the situation, Erica decided the student needed help. She sought out one of the party hosts to tell him she was going to call 911.
"I told him that I felt it was best that I called for help. He proceeded to yell at me and tell me that the kid just needed to sleep it off, and that I would not be the one to ruin the party. For a second, I thought maybe he was right? I had no real experience in a scene like this — how was I supposed to know someone else's limits? I went back and sat with our 'John Doe.'"
Erica second-guessed her instinct to call for help because it's easy to feel doubt in a situation like this, especially when those in authority minimize your concerns or are actively discouraging you from taking action. Maybe she was overreacting? Maybe it was none of her business? These thoughts are common barriers to calling for help. "Then a guy came rushing into the house and said that he knew John — and I was so grateful that finally, John had a friend who may be of help! Unfortunately, instead of helping, he pulled out his phone and started recording John…my friend stepped in between the camera and John to prevent videoing while I insisted that we get help. The guy with the phone grabbed me by the arm and told me that I had no right to make any decisions for someone else. Ambulance bills, hospital bills, possible legal trouble — he gave me the whole rundown in his own drunken slur. Because I had seen HAZE, I remembered that minutes matter, and told myself that I couldn't waste any more time trying to convince drunk people of my decision to get help. I left my friend with John Doe and went outside to make the phone call to 911. When the EMTs arrived, my gut feeling to get help was confirmed — I watched medical personnel assess John's condition and carry him out of the room to the ambulance, and I went home that night still not knowing John's real name…but knowing that I had made the right decision."
Erica credits Gordie's story for teaching her that doing the right thing, even if it's hard, is always worth it. She could have walked away when she received pushback from multiple people about calling for help, but Erica persisted because she knew the PUBS signs of an overdose. "I think it's essential for students to watch HAZE and learn the signs of an alcohol overdose, because any situation can take a different course incredibly quickly. Having prior knowledge and being educated on the warning signs can help students feel empowered to take action. I believe wholeheartedly that in this world, all we have is each other, and if someone is faced with making a life-or-death decision for someone else, I hope they find the courage to choose life every time despite the consequences or fears in doing so."
I went home that night still not knowing John's real name…but knowing that I had made the right decision.
Gordie's story stayed with Erica long after viewing HAZE, and she saved a life because of what the documentary taught her. Even though she was initially conflicted about what to do, she now feels assured and filled with gratitude that she didn't give up. "I genuinely have HAZE and the Gordie Center to thank for educating and empowering me to make the decision I did. We never know the person we are going to be in those situations, but when we can do our best to prepare and educate ourselves, we can feel confident in our decisions when the time comes."
Erica, and John Doe, were able to resume their college experiences after that scary night. Erica is double majoring in business and political science with a minor in economics, and she has no regrets about her role that evening. She still doesn't know who John was or where his path has taken him, but she knows that he was able to survive that night because of her actions. "Gordie had what sounded like fantastic support systems and friends, he had all the tools he needed to be successful on his own, but when he needed someone, the people around him failed to do the right thing and tragedy struck. Gordie's story tells us that it can happen to anyone — on both sides of the event. I chose to make the decision that I did with the hope that should I ever be the one needing help, someone would make the call for me, too."
I encourage everyone to support the Gordie Center as much as they can because my story is a testament that their work not only changes lives, but saves them.
Because of the tremendous impact it has had on her life, Erica is now working to bring Gordie's story to her college campus. "I want to share the Gordie Center's work with my peers because I believe that empowerment comes from education. I encourage everyone to support the Gordie Center as much as they can because my story is a testament that their work not only changes lives, but saves them. Supporting the Gordie Center ensures that more students are educated about hazing, substance misuse, and the signs of an overdose, which prepares students to be engaged, responsible, and caring members of their communities."
*Name has been changed to preserve anonymity of all involved.