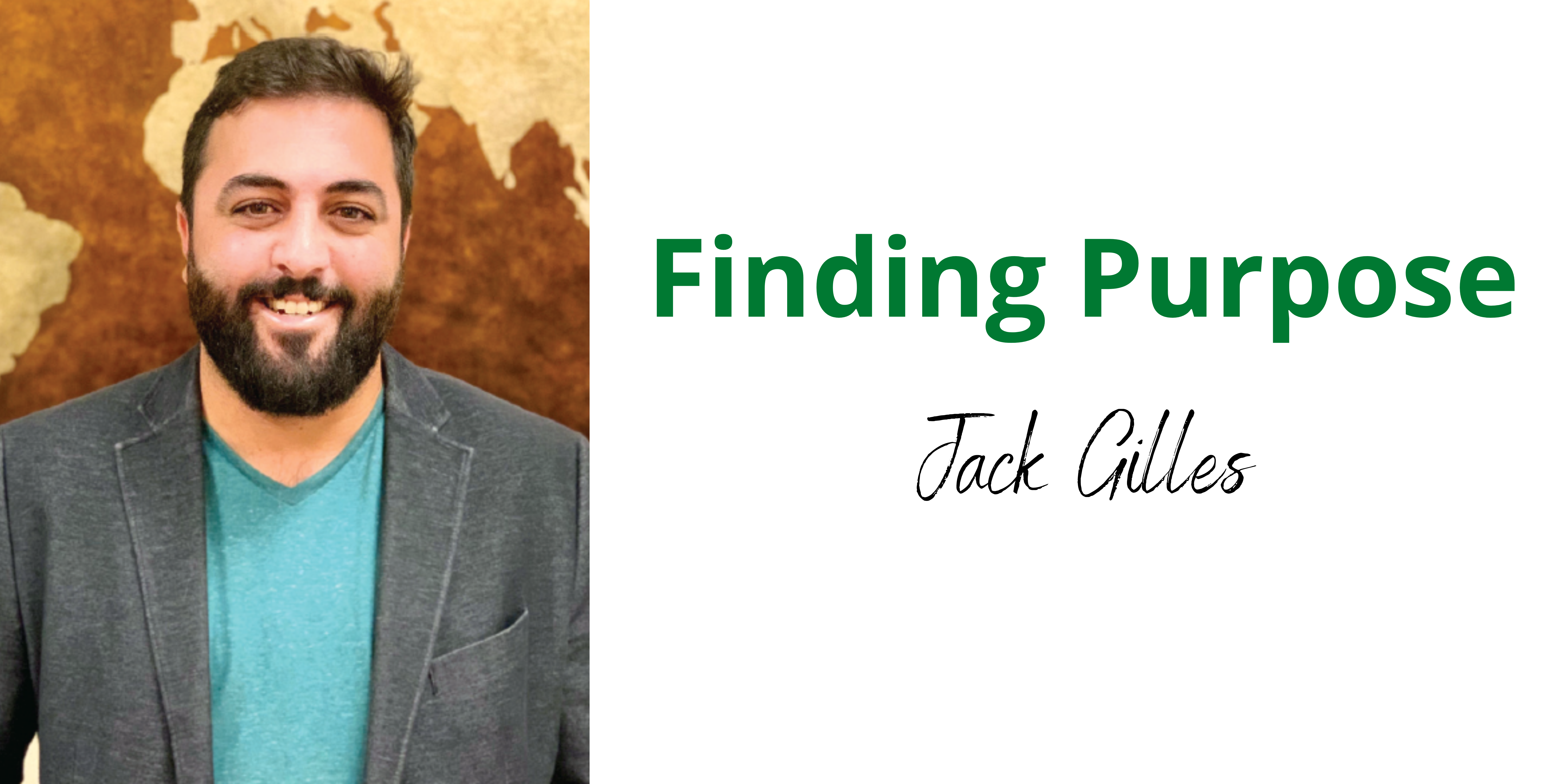 This article originally appeared in the Gordie Center's 2019 print publication.
In 2004, Jack Gilles was an 18-year-old from California just starting at the University of Colorado (CU) in Boulder, and like every new college student, he was looking for friendships to make his environment feel a little less overwhelming. He found similarities and friendship with a few of the guys on the same hall of the dorm where he was living, especially the guys right next door — Gordie Bailey and his roommate, Steve.
"Unfortunately, Gordie and I really weren't friends for all that long. Not like his friends from home, high school, and his family. So out of respect for them, I won't claim to have known him on that level … but that first month of college felt like an eternity. Every day, there was something going on — class, intramural lacrosse, flag football, student council, and fraternities."
"Gordie and I became fast friends both by proximity and mutual interest in all of those activities. Also, Gordie was authentic. I think that is the best way to describe him. So in some ways, simply to meet him was to know him. He was easygoing and charismatic, with a sense of humor. He was just one of those guys you didn't need to be doing anything in particular with to be having a good time. He loved his family, and I heard all about his sister, his mom, dad, and stepparents."
Jack and Gordie ended up pledging Chi Psi together, "in part because we felt the brothers were the same type of people," Jack remembers. "I never really considered myself a 'fraternity' guy like I had seen in the movies. I was on the fence on the fraternity part of college — Gordie rushing was one of the reasons I joined. Gordie was one of the most popular pledges."
Jack was with Gordie the night he died. The fraternity had hosted an event at the fraternity's mountain lodge, where pledges were required to finish 10 large bottles of liquor and wine provided by the fraternity members before they would be allowed back down the mountain. Jack threw up. He took a picture of Gordie, planning to show his friend the next day how drunk he had looked. Gordie needed to be helped to a couch once the group returned to the fraternity house, and the fraternity members and pledges wrote on him and drew pictures with permanent marker while he was passed out. The party at the house continued while Gordie and others were propped on couches in the fraternity's library, with buckets in case they threw up. Jack checked on Gordie in the early hours of the morning, before he left the fraternity house to walk back to the dorms — he heard Gordie snoring, and left his friend to sleep off the events of the night.
"To this day, I remember shock, confusion, and disbelief," Jack says as he recalls the moment he learned that Gordie had died. "It wasn't until I opened my door and saw police in his room that the reality began to slowly sink in. He was dead … but why? How? I was confused. I was with him last night, I had checked on him somewhere between 4 and 5 in the morning, and he was not dead."
When asked if Gordie and the group had been doing heavy drugs and if Gordie may have overdosed, Jack answered no, because in his mind, "20 shots of whiskey isn't equitable to heavy drug use. I was so far removed from what reasonable behavior was toward drinking that I had not even taken into account that the massive amounts of hard liquor we drank the night before could be responsible for Gordie's death. This, despite me throwing up from drinking that night, seeing how drunk he was, knowing he had to be helped to the couch, and him having his face drawn all over while passed out. I don't like to think of myself as a stupid person, but the main reason I didn't call 911 is because it never occurred to me that it could be necessary. And that is stupid. It's also embarrassing. How moronic we were to think that the primary concern for Gordie that night was to make sure he was on his side in case he threw up?"
Jack wrestled with sadness and guilt after Gordie's death. "I stopped going to class, so my grades went down to the point that I was put on academic probation in spring semester and nearly failed out of school entirely. My parents and family were in California, and my friends from high school just couldn't understand. Also, I just wasn't the type of person to call people up on the phone and talk about problems. This was college, right? It was supposed to be the time of my life. So in some weird way, I didn't want to betray that sort of image, even to close friends back home."
Struggling to move forward, Jack thought about ways in which he could make an impact on his peers in regard to alcohol education. "In high school, I was the guy that 'knew' about drinking. I was the guy who would let his friends crash at his house rather than drive home, or have water on hand, or make sure to give people food. As it turns out, everything I did to 'help' people who had drank too much really wasn't doing all that much. I just didn't know it, because nobody had actually ever specifically taught it to us."
In Gordie's honor, Jack helped found a peer education group called Guidelines and Objectives of Responsible Drinking (GORD). The idea behind GORD was to dispel myths of drug and alcohol use with facts and science — to provide the education that Jack wished he had gotten before Gordie died. Jack immersed himself into getting the group off the ground, spending over 30 hours a week helping to build a program that eventually became a 501(c)3 non-profit with an 8-member management team and 30+ volunteer student members. The group helped run new student orientations for CU, and also developed peer-to-peer talks which they presented at over 30 universities and Colorado high schools. GORD presentations focused on the signs of alcohol overdose, how the body processes alcohol, what blood alcohol content means, explaining the concept of tolerance — all while being "very real with the audience. We didn't try to push an agenda other than information transfer." GORD had an office on campus at CU for more than six years.
"I am very proud of all we accomplished in GORD. During my time with the group, we received around 15 letters from audience members crediting us for saving a life. Not just fraternity people, either. They heard our story, heard our message, and ended up taking actions that in the past they wouldn't have normally taken, like calling an ambulance in a situation where peer pressure dictated otherwise. Those letters, those lives, are a credit to Gordie, and to the students who knew him or were inspired by who he was and volunteered their time."
You don't understand the feeling until you wake up and know that you had six hours to call 911 and you were too ignorant, too scared, too whatever to make that call.
GORD helped students at CU and around the state of Colorado, and also helped Jack get his college career back on track. "GORD really helped give me purpose. Other things followed for me, like a better focus on my classes, rebounding my grades and academic career, and more stable, healthier relationships." Four years after Gordie's death, Jack was able to graduate from CU on time. "Graduation from CU was cathartic in the sense of letting go. I had a chance to go out into the world and be known as me, and not first as Gordie's friend (to those that knew him or had heard about his death) or the alcohol education guy (to those that had seen a GORD presentation)."
Jack graduated in 2008, and planned three months of travel to South America. Those three months turned into over 4 years, during which Jack lived in Chile, Argentina, and Brazil, where he started a few restaurants that he sold before moving back to the US. "I was ready to move on from CU, GORD, and all the baggage. Perhaps that's why I stayed working in South America so long — I had the opportunity to just be me, and start over."
Before embarking on his life after college, Jack participated in the filming of HAZE, the documentary about Gordie and the events surrounding his death which was produced by Gordie's mother and stepfather, Leslie and Michael Lanahan. "I felt, and still feel, that I had a responsibility to Gordie, to support his family in their efforts," Jack says of his decision to participate in HAZE. "For me, my role in HAZE was for no other reason but the future. Making an impact on the next kid, or the next kid's friends. For Gordie, what was done was done and that story can't be changed. So in my mind, HAZE wasn't about Chi Psi, it wasn't about GORD, it wasn't about redemption or demonizing, or public relations. It was simply about finding ways to impact future generations so they didn't have to go through this." Jack was one of the only people in Boulder who was willing to talk with Gordie's family after his death. "I was so grateful that Jack was willing to step up," Leslie says of his participation in HAZE. "I thought it was dear of him to take responsibility as someone who didn't make the call [to 911] himself. I will always be so thankful for him and grateful to him."
HAZE has been viewed by over 1 million students nationwide since its release 11 years ago. Jack has an integral part in the film, and in discussions after viewings, students consistently single him out as someone with whom they have a strong connection. "If my participation in HAZE has had an impact, then it makes me feel good. All I have ever tried to be when it comes to Gordie is honest, and I am happy to hear that honesty resonates with people." Jack thinks that Gordie's story remains relevant to students today because "Gordie was, and still represents, a typical teenager, and his death deals with topics still important for current and future generations."
Today, Jack works in the agricultural sector, with the same company he joined upon his return from South America. He travels internationally often, managing strategic projects and business development for global business units. He graduated with an MBA focused on international business last December, and currently resides in California.
"It's fifteen years later, and I carry the same regret when it comes to Gordie. I know what happened, what I did, and what I should have done. I didn't do the right things and he died. There is a finality to that series of events that is particularly harsh for young people — young people who should be able to make lots of mistakes and learn from them. For Gordie, there was no lesson to be learned, because he never got a chance to. And for me, these are not lessons that should need someone to die in order to learn."
"I understand firsthand the feeling of 'I wish I had done something.' That's not something that ever leaves you. I still think of Gordie all the time — every time I fly into Dallas, or September 17th rolls around, or his birthday in February comes up, or I see a photo from his family or my other college dorm mates on social media. I still choke up thinking or talking about him. It's a conglomerate of emotions that will never go away — regardless of acceptance, guilt, time, future actions. It's just there, and always will be."
Jack thinks back to when he first started at CU, and how Gordie has shaped so much of what came after for him. "Between the dorms and the pledge class, we thought, 'These are going to be the friends we have for the rest of our lives.' And in many respects that has turned out to be true. For those of us who knew Gordie, experiencing his death together forged a very strong bond. His roommate, Steve, is still one of my closest friends. In a lot of ways, this speaks to who Gordie was. He made so many fast friends, and people respected him and liked the guy so much that his death left a void. Really, a tangible void in our freshman year college experience. But from that tragedy, our entire floor became like a family, the bonds of which are still strong more than a decade later. So many good things happened after his death, and they only happened because of how he was in life — not because of what happened at a fraternity party. In that sense, I can confidently say that as devastating of a tragedy as his death was, what defined Gordie was his life — too short but very impactful. And for that, I consider him to have been a wonderful friend, and I feel lucky to have known and been friends with somebody like that. Some people live to be 90 and never make an impact on so many people. He did it by 18."