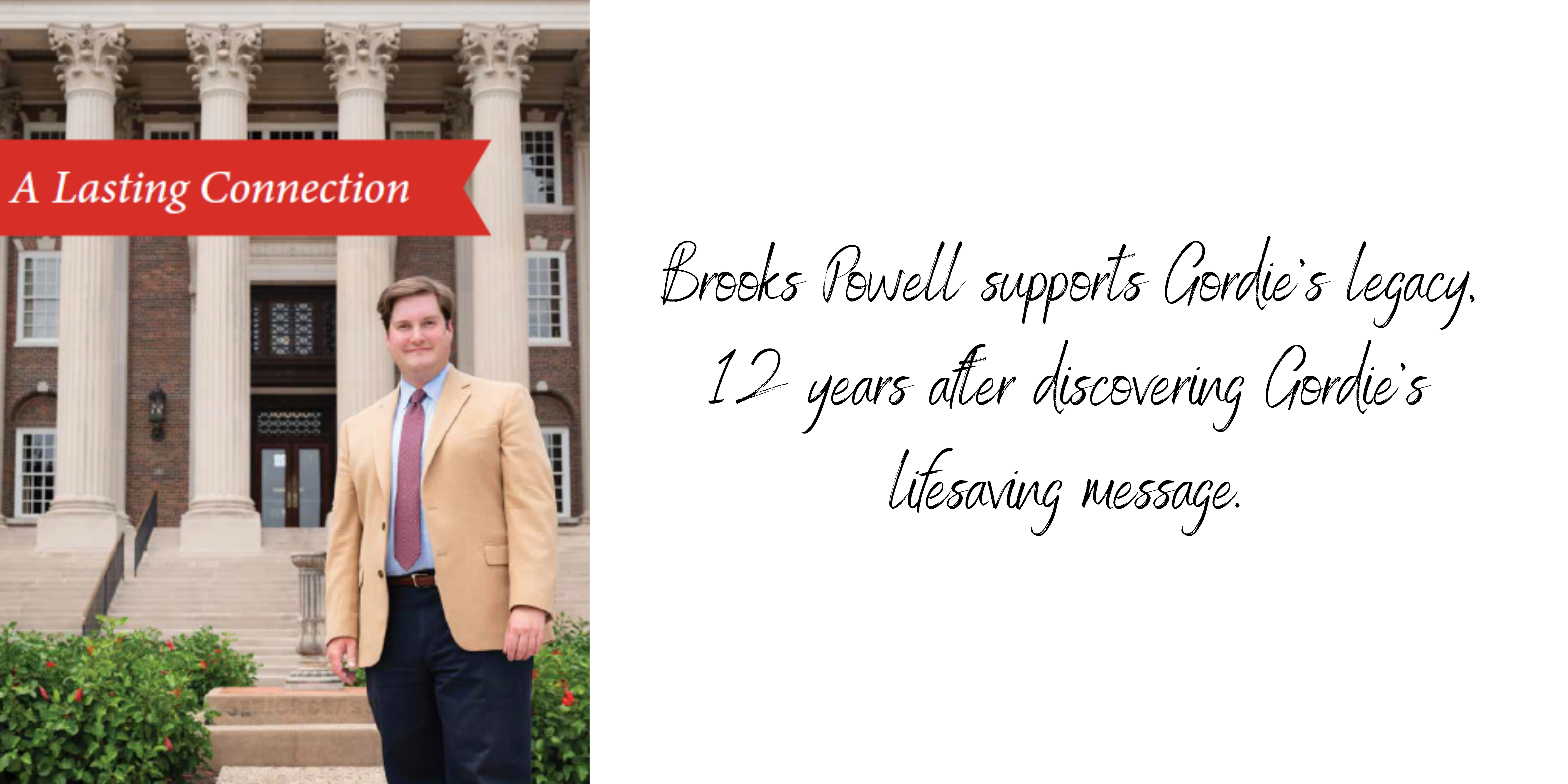 This article originally appeared in the Gordie Center's 2018 print publication.
If minor circumstances were different, Brooks Powell from Dallas, Texas, acknowledges that his and Gordie's fortunes could have been reversed. Although they never knew each other, Gordie and Brooks had much in common: they were born in the same year, grew up in Dallas, had interests in the arts from a young age, enjoyed travel, and were blessed with loving, supportive families. Brooks started his freshman year at Southern Methodist University (SMU) in Dallas in the fall of 2004, at the same time that Gordie began his tragically short experience at the University of Colorado in Boulder. Brooks followed the news stories about Gordie's death and remembers the heartbreak he and his parents felt in the face of such a senseless loss.
I am certain many, many students are alive today because of the Gordie Center and Leslie and Michael Lanahan.
"Like many college freshmen, however, the story seemed distant to me. At the time, I was not involved in Greek life, and I felt I was removed from the hazards of hazing and extreme drinking that contributed to Gordie's death. It wouldn't happen to me or my friends, I thought," says Brooks.
Brooks didn't understand the full impact of Gordie's death until three SMU students died from alcohol- and drug-related causes during Brooks' junior year. As a student leader, Brooks wanted to respond with effective strategies to address alcohol misuse, and help students learn how to take care of friends in dire need.
"I went searching online for a common-sense message, and discovered The Gordie Foundation."
SMU embraced The Gordie Foundation's lifesaving message and integrated it into required first-year courses thanks to Brooks' research and advocacy. After meeting with The Gordie Foundation's staff and Gordie's mother and stepfather, Leslie and Michael Lanahan, Brooks felt called to address this crisis at the national level and took a full-time position with The Gordie Foundation in 2007, while still a student at SMU. In this role, Brooks was involved with the debut of the original HAZE film in 2008, the creation of National GORDIEday, held annually during National Hazing Prevention Week, and the transition to the University of Virginia in 2010 (when it became the Gordie Center).
Brooks now works as a marketing and communications director at an architecture firm in Dallas, and continues to support the work of the Gordie Center by facilitating showings of HAZE to high school and college audiences in and around Dallas. (He was the first person nationwide to facilitate a showing of the 2018 release of HAZE in February!) "When I speak to audiences, I tell them that were he alive today, Gordie and I would be the same age. I am now 10 years removed from college, and Gordie's story is nearly 14 years old, but the Lanahans' grief is still fresh. I see the same patterns of behavior that were prevalent during the time Gordie and I were navigating the first days of our first year of college; the cultural issues surrounding Gordie's death are still recognizable to young people and parents in 2018."
"It is imperative that parents and other adults talk with young people about the dangers of hazing and alcohol overdose. A lack of awareness and a naïve sense of invincibility contribute to too many near-misses, and sadly, too many statistics. We will never know the lives that have been saved as a result of the Gordie Center's work, but we know through countless anecdotes that well-timed, resonant messages have led students to make life-saving calls for friends in need. We must empower our youth to stand up against would-be hazers and break the cycle."
In addition to sharing Gordie's story with youth in Texas, Brooks also donates to the Gordie Center. "I know my small financial contribution makes a significant impact," he says. "I am so proud and honored to be able to share such an important, lifesaving message. My dollars are well invested in the Gordie Center if just one student's life is saved because a friend or bystander called for help. I am certain many, many students are alive today because of the Gordie Center and Leslie and Michael Lanahan."
Brooks encourages others to support the Gordie Center because he believes strongly in the power of Gordie's message. "The Gordie Center's work as a leader in education and advocacy is helping us to shift the paradigm, where we see empowered student leaders stepping up to effect change. Greek organizations are altering how they operate, choosing to build up young men and women rather than destroying them in the process of becoming new members. First-year students are engaging in peer-initiated social events that do not revolve around drinking. Adults have new tools around which to have frank, honest discussions with college-age students about alcohol and hazing that leave them better informed and engaged instead of feeling lectured."
"The Gordie Center has dramatically elevated the dialogue regarding these issues among students, parents, university administrators and staff, as well as lawmakers on a local, state, and national level. With more support, the Gordie Center can be even more active, reaching many thousands more students and parents who will benefit from better education and awareness about the dangers of alcohol misuse and hazing. We must continue to empower our young people with this information. We know it is saving lives."